Kids Everyday

Bill McLoughlin

May 4, 2016

No site, No price, No competition

The cover story of this issue looks at the growing importance of the Internet for today's very busy, often dual-income parents. According to the Pew Research center nearly half (46%) of U.S. households today have two working parents and more than half (56%) say that balancing work and family is difficult. That may not be surprising, particularly to anyone who's had to achieve that balance. But it's something worth keeping in mind if you're in retail because you can either be part of the solution or part of the problem. One of the reasons that ...

The #Millennial @KidsToday

Jason Clayton

April 6, 2016

Made in America creates local passion

Premarket is still fresh in my mind as we gear up for Market, which is less than a week away. I had the opportunity to attend and visit several showrooms, a great experience as the new kid on the block. Even though some of the kinks were being worked out, there was something intriguing seeing an entire new line or collection. It felt like a well-planned dress rehearsal. I'm looking forward to what the April High Point Market will bring. I went to Premarket to gather photos, mainly of youth furniture, and to gain a better understanding of how ...
View all blogs
Las Vegas Market

July 31, 2016 - August 4, 2016

Las Vegas

, Nevada, US

Dallas Apparel & Accessories Market

August 17, 2016 - August 20, 2016

Dallas Market Center

Dallas, Texas, US

Tupelo Furniture Market

August 18, 2016 - August 21, 2016

Tupelo

, Mississippi, US
More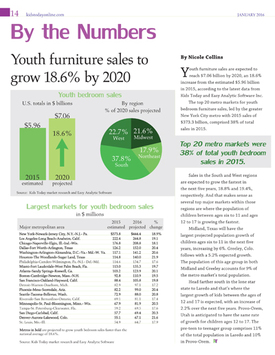 Youth furniture sales are expected to reach $7.06 billion by 2020, an 18.6% increase from the estimated $5.96 billion in 2015, according to the latest data from Kids Today and Easy Analytic Software Inc. See research details.
The LEGO KidsFest brings hands-on, minds-on fun of LEGO building in an activity-filled event for kids and adults of all skill levels. It kicked off Feb. 19-21 at the Charlotte Convention Center in Charlotte, N.C.

The tour will also take place April 8-10 at the Farm Show Complex & Expo Center in Harrisburg, Pa.; May 13-15 at the Kansas City Convention Center in Kansas City, Mo.; June 3-5 at the Kentucky Exposition Center in Louisville, Ky.; Oct. 7-9 at the Wisconsin Center in Milwaukee; Oct. 21-23 at the NRG Center in Houston; and Nov. 4-6 at the I-X Center in Cleveland.

Here are images from Feb. 20 in Charlotte.
View All Slideshows
The company's newest contemporary home theater group features a raspberry leather cover. USA PREMIUM LEATHER
C-1440, C-1432