Joanna Gaines' youth line draws inspiration from family
Joanna Gaines and Standard Furniture unveil new Magnolia Home division: Magnolia Kids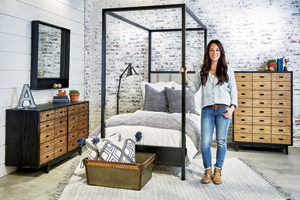 Joanna Gaines with her new youth line, Magnolia Kids.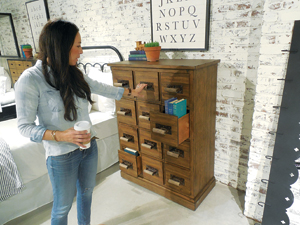 Joanna Gaines opens the drawers of an apothecary style chest in the Magnolia Kids line.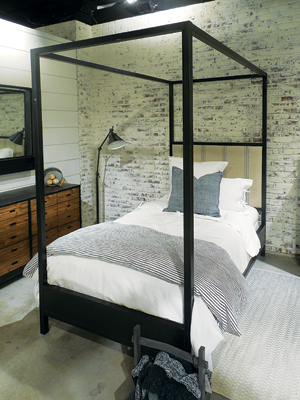 This canopy style bed with a metal frame and upholstered headboard is among the new pieces in Magnolia Kids.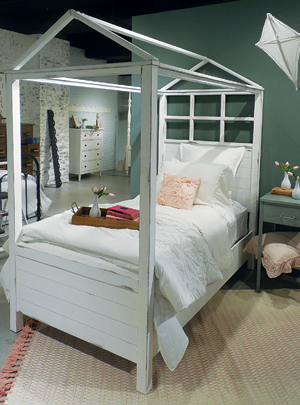 This house-inspired bed is shown in a white finish with rub-through effect.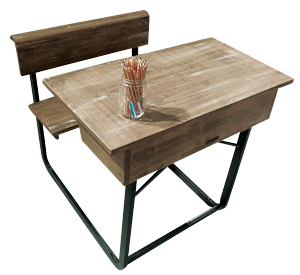 This wooden kid's desk is supported by a metal frame. It is inspired by vintage student desks seen in old school houses.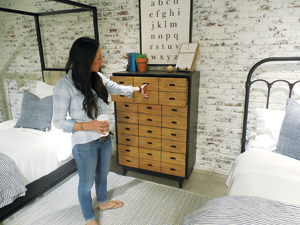 Magnolia Home by Joanna Gaines, the licensed line launched in partnership with Standard Furniture last October, is adding a new youth division this market called Magnolia Kids. The line includes a mix of twin and full-sized wood, metal and wood and metal beds in various styles, ranging from Victorian-influenced traditional forms to contemporary canopy beds suitable for boys' and/or girls' bedrooms.
These beds, many of which mirror styles seen in the adult line launched in October, are shown with case pieces that often complement the finishes seen on the beds. There are also desks, apothecary-style drawer chests and even a craft table that comes with stools, where children can do homework and other activities.
In an interview with Kids Today, Gaines, a mother of four, shared her thoughts on the line and what she believes it offers to the marketplace.
Kids Today: Youth furniture seems like a natural extension of the line. Tell us a little about your inspiration for Magnolia Kids.
Joanna Gaines: I always tell people that anything I do creatively, the inspiration comes from my home, my kids, my family - that's the initial inspiration. It is about how they live and what do we need to make the house peaceful, but also functional and pretty. And so with this whole new kids division, I am just so excited because as a mom, I am always looking for unique pieces that the kids will love and feel like their rooms are cool and fun and fresh. But also as a mom I love the function and design. So for me, knowing my children and how they always have junk out, it is about how do I help keep them organized, but also how do I keep their rooms fresh and fun. So that was really the inspiration - it stems from home.
KT: What synergies does the collection have with the original Magnolia Home?
JG: What I love about this is that again, like the rest of the collection, you can pair all the pieces so none of them necessarily have to be so "matchy matchy." I think this inspires the end user - the mother who is designing her space - it inspires her to be creative.
KT: Was it different for you designing the youth furniture than it was pieces in the original line?
JG: I think they are both fun because I can be super creative. But with the kids line I just think because I am in that season of life where I have young kids, it just felt so fun as a mom to be able to create these pieces for other moms to use in their homes. I just love that. I love being able to share the story of these pieces with other people.
KT: Did your own kids help influence your style direction?
JG: Last market, when my kids were in here, the girls were telling me "I love this bed." But at that point, the bed was only offered in the main collection. And then my girls said, "Oh that's a princess bed." And I thought, as a twin and a full, this can really work in a little girl's room. And the boys would make note on what pieces they really loved, and I took note of what pieces they loved. That is what inspired what you see.
KT: How do you think kids in general will like the line?
JG: For me as a mom, when I design my kids' spaces, I want my kids to be inspired there , I don't want it to be stale, I don't want it to be "me too." I want them to be in their rooms and to feel super inspired. I feel like a lot of these pieces have that inspiration behind them. When you pair them with each other I think that is the goal - that these kids can be creative in their own space. Start them young.
KT: Are there distinct pieces for boys and girls bedrooms?
JG: We have got very distinct boy pieces, we have got very distinct girl pieces, and we've got some in the middle. I know some families where kids share rooms, so I was thinking if they have to share rooms while they are young, you still can pair that stuff together.
KT: One of the trends in youth bedroom is to allow the child to grow with the furniture. Was that your approach here?
JG: Yeah - when I design spaces for kids, I think "are they going to love this when they are 10, are they going to love this when they are 15." So there are some beds in the line that are definitely younger - there is that fun little house one - but there are other ones I can see going all the way up to teenage years if you get the appropriate size (bed). But for sure, the key is how I want these things to last.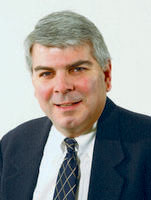 Thomas Russell
|
Associate Editor, Furniture Today
trussell@furnituretoday.com
Related Content By Author
Westwood Design finishes draw attention to nursery furniture

More Videos