Momeni teams up with The Novogratz for rug line
Rugs shown for first time at market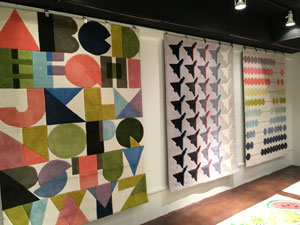 A look at some of the first rugs from the partnership between The Novogratz and Momeni.
Family informs much of the design of Cortney and Robert Novogratz.
The husband-and-wife design team — stars of programs on HGTV and Bravo — have seven children and the deep sense of family is readily visible in their first collection of rugs with Momeni on display at the recent High Point Market.
Cortney said the children have had a major hand in getting the rugs off the ground, so to speak.
"The kids are becoming quite the designers," she said. "They're very cool compared to us now. For example, one of the rugs says 'You Do You' and our daughter always says that. They inspire us and tell us when something won't work."
Early word at the market this week is all the designs work, according to Reza Momeni, principal of the Carlstadt, N.J.-based manufacturer.
"It's amazing. It's a great line and besides having two good names behind it, the line resonates in the market," Momeni said. "It's fresh, bright, priced well and there are many varieties. It's been placed in many doors already."
The partnership with The Novogratz is Momeni's first in around 15 years. "We didn't want to jump into licensing; we wanted to get into the right partnership. This feels right," Momeni said.
Cortney said a year ago her family met the Momeni family, talk turned to product, and things fell in line from there.
"We were able to strike up a conversation on giving great styled rugs to families at a good price," she said. "We brought some fun new ideas along with their team to tweak our vision and pull off a great line."
She said the decision to get into rugs stemmed from the floor's importance at the beginning — or end — of a design project.
"I think it's the anchor piece to any room or the home. For us, it's a good starting point. and we'll take that lead from the rug. Sometimes, it's the last thing that is put down but it's the most important piece because it holds everything together," Cortney said. "Whether it's filled with tons of bright colors or patterns or even wordplay, our line is to brighten your day and make it a happy home."
Many of the designs have a youthful perspective. Others take cues from military — a rug with the Morse code alphabet, for example — due to Robert's father's years of service. Another collection of shags are inspired by early 1970s style.
"We look at old wallpapers and prints on fabric and fashion and how they could work on a rug, toning down the colors or brightening up the colors," Cortney said.
Through it all, they relied on the Momeni family's expertise in the rug field to make sure the designs translated well into the medium.
"It's been a great process. Momeni has been a great partner," Robert said. "They let the designers design. We used them and their expertise in the rug world and told them what has worked for us in the past. It's a great relationship."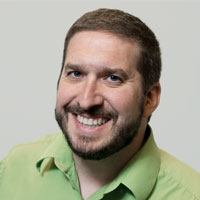 Thomas Lester
|
Business Editor
tlester@homeaccentstoday.com
Related Content By Author
Westwood Design finishes draw attention to nursery furniture

More Videos