Fill Station Pillow Kiosk to show kids pillows at market
Three kids pillows included in line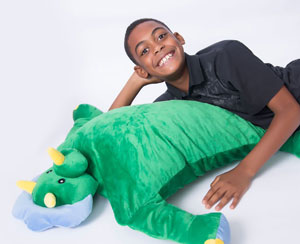 The green dinosaur is one of three youth pillows offered by The Fill Station Pillow Kiosk.
SPRING HILL, Tenn. — The Fill Station Pillow Kiosk will showcase its Fill Station Friends kids program at the Jan. 22-26 Las Vegas Market.
Showing in World Market Center B-270-05, the Fill Station Friends kiosk allows kids to make their own fun pillow, either a blow cat, green dinosaur or purple unicorn.
"Kids can adopt a name for their pillow friend and have their pillow registered," said Arthur Watkins, CEO of Fill Station Group, LLC. "We are making it fun for the whole family to buy a pillow."
The Fill Station Pillow Kiosk allows customers to build, refill or remake their pillow by choosing any combination of super soft poly foam, buckwheat hulls, shredded memory foam, shredded latex and/or goose down. The Fill Station Pillow Kiosk can produce more than 100 different custom pillows and can build a pillow in less than five minutes while customers wait, watch and check out other merchandise in the store.
Once a customer purchases a Fill Station Pillow, they are guaranteed an annual refluffing and adjustment service for five years. Customers register on the Fill Station website to remind them when to come back to the retailer to remake and re-fluff their pillow.
The Pillow Kiosk offers retailers a program that brings customers into the store and the opportunity to create a long-term relationship with them. Retailers wanting to learn more about the program can visit The Pillow Kiosk at Las Vegas in January.
Related Content By Author
Westwood Design finishes draw attention to nursery furniture

More Videos