Themed bedrooms still pack punch for younger set
HIGH POINT — As tweens and teens develop more sophisticated tastes, more and more youth bedrooms have started to look like junior versions of an adult master suite or second bedroom.
But for younger children just coming out of their crib and toddler stages and up to ages six or seven, there is still a big market for themed bedrooms. Not only do these add a sense of fun and adventure to the child's room, but they also stand out on the retail floor with splashes of color and a variety of forms.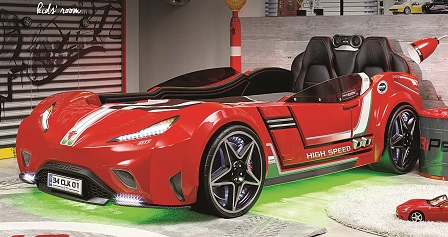 Cilek USA sells race car-themed beds as part of its Champion Racer series. Versions are also available in white and black.
Whether race car, pirate ship or princess beds, a number of youth resources continue to offer this themed approach, despite the softening of sales in the category that occurred during and immediately following the recession of 2008.
The economy was one factor that helped doom the former Lea Inds. Nickelodeon line, which launched around 2009, on the heels of the global financial crisis. But where it failed, others have found continued success.
Building on history
Jeff Wallner, CEO of Acme Furniture, said that the company has been offering themed youth beds — including princess canopy, race car and pirate ship beds — for about 10 years. Other themes include fort shaped bunks, tent beds, sports-themed beds, and truck and train beds.
"As a one-stop shop, we want to be able to provide all categories but this one especially," Wallner said, noting that about half the themed products have matching case pieces. "This category brings fun to the retail floor, which is hard to do. The more creative we get, the better it is for the retailer."
He noted that the category represents about 15% of overall youth sales, down slightly from 2008.
"I think the economy has everything to do with this category," Wallner noted. "We have tried to make more price sensitive items since 2008, and when the right combination of price and theme are together, it works well. Prior to 2008, a cool theme would sell at almost any price."
C. David Gingrich, senior vice president of multi-channel sales at Powell Company, said that the company has been selling themed beds for nearly 20 years. Its lineup includes beds such as soccer, baseball, basketball and skateboard beds as well as princess, car and castle-inspired beds, most of which also have matching case pieces.
"The industry is saturated with 'me, too' youth," he said. "We want to give the customer something different, a wow factor. Dealers understand that being different is critical to retail success."
Today, these and other themed beds represent more than 30% of Powell's youth sales, a figure that has declined slightly in recent years due to the success the company is having with its wood and metal bunk bed line.
Despite some of the growing interest in less playful footprints including bunk beds and full-sized beds mimicking adult styles, Gingrich and others say the themed beds remain an important aspect of Powell's youth line.
"Powell dealers have learned how successful themed collections can be and how themed collections boost sales in their youth departments," Gingrich said. "They want something fun and exciting for their stores, and Powell fits the bill."
The right product
A key challenge is to develop products and themes that attract children in their formative stages. Powell, for example, accomplishes this by doing market and consumer research, Gingrich noted.
"We determine what is popular with the youth of today and which direction trends are moving," he said, adding that the company brought out soccer themed beds in advance of the World Cup and continues to develop princess-themed beds due to satisfy many young girls' fantasies of being a princess.
Wallner, of Acme, said there really is no secret formula to developing the themed collections. "Let's just say that kids seem to find trends quicker than anyone. We just try to follow them."
Resources such as Cilek continue to do well with car-themed beds as well as princess beds, pirate-themed beds and airplane beds. It also offers a soccer-themed bedroom complete with a locker-inspired storage piece and a desk complete with a net motif at the base. Its line also features desks and storage pieces that complement the other themes.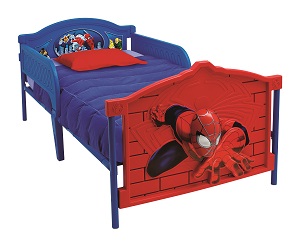 This Spiderman bed is part of Delta Children's licensed lineup of toddler and twin beds.
Delta Children also offers race car-themed toddler and twin beds, including models that can be converted from a toddler to twin version. But its main niche in the themed area is licensed beds from a variety of partners that include Disney, Nickelodeon, Star Wars, Dream Works, Sesame Street and Marvel. Toddler beds retail from about $60 to $120, and twin beds retail from $129 to roughly $299.
"It started with Nickelodeon; we have really created a space for this at retail," said Jennifer Snyder, vice president of licensing, adding that this is the largest division for Delta outside its cribs.
The fact that children are identifying with various characters they see on TV and social media helps these themed bedrooms resonate with both children and their parents.
Growing with the child "The licensed beds are a huge market," Snyder said, noting that the licensed lines too can grow with the child, particularly with beds that convert from toddler to twin. "It is a mass market customer."
In addition to the beds, the company offers storage pieces such as toy boxes, toy organizers and book cases that also bear the licensed themes.
Maxwood Furniture's Matrix brand offers plenty of playful kids' bedroom options that also can grow with the child. Its line starts with a basic toddler bed that can be expanded to a storage loft or staircase bunk bed that can even be outfitted with slides, tents and other hideout features such as fabric towers and curtains. With such features, the company said there are some 22,000 footprints within the Matrix line.
"The Matrix brand is built and based around a tent-castle theme," said Anne Jensen, marketing director for Maxwood Furniture. "Our entire brand identity reflects that. … People who are very kid-focused are interested in the Matrix brand because it has a lot of play value, and all our beds are convertible. What today is a castle can be converted into a storage loft."
The play aspects — including slides and tents — also make the line very popular particularly around the holidays, Jensen noted.
"We see an uptick in business at the Christmas season because of the themed approach," she said, adding that the line remains extremely versatile. "You can pick your size, pick your color and whether you want a loft or bunk bed. It's like Lego. The possibilities are really endless, which is what people like."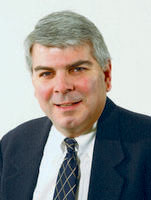 Thomas Russell
|
Associate Editor, Furniture Today
trussell@furnituretoday.com
Related Content By Author
Westwood Design finishes draw attention to nursery furniture

More Videos