Producer, retailer co-branding key to building recognition
Technology, product that grows an absolute must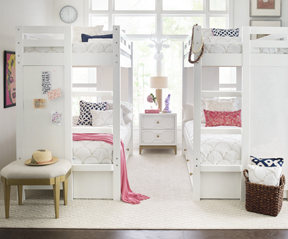 Legacy Classic, Rachael Ray Chelsea collection
By Marc Barnes, Special to Furniture Today
HIGH POINT — Within the youth category, creating a brand and building recognition for it is not unlike throwing darts at a moving board, while at the same time, battling your way through some formidable adversaries.
There are pure-play youth specialists and high-profile licensed lines, in a marketplace in which the end user is continually changing, from one school year to the next, from infancy to leaving for college.
Interviews with leaders in the category show that there are new strategies to build market share, including leveraging size into efficiencies of scale for product development and sourcing, producing robust marketing materials and providing sales training for retailers to build product knowledge.
Technology is in the mix, from offering Bluetooth capability and charging stations on the furniture itself to dynamic websites showing what's being offered to enable shoppers to see the furniture before they go to a store, even down to the ways that social media platforms are being used to build relationships between the manufacturer, the retailer and the consumer.
Don Essenberg, president of Legacy Classic and Legacy Kids, said that the best way to create a brand is to work closely with retailers, which blends the national marketing power that manufacturers bring with the power of the retailers' brand in their own markets.
"The co-branding creates a synergy that successfully competes against pure play specialists and higher profile licensees," says Essenberg.
The advantages of being with a larger company include economies of scale when it comes to logistics and the purchase of raw materials, along with a perception of value.
Brand recognition at the store level is vital, and can include such things as assistance in point of purchase and display design. Sales training is vital because product always sells better when salespeople are confident in their product knowledge.
But the most important aspect for youth furniture is that it grow with the child.
"Today's kid is literally wired for technology themselves," said Essenberg. "If charging stations and wire management aren't addressed, the furniture looks as if it's from the 20th century. Multifunctionality is a key ingredient for technology management and furniture that grows with the child.
"Every consumer wants to buy furniture that will have a long life. This is why furniture that grows with the child is so important. This furniture, when it is grown up, makes it ideal for a reincarnation as a guest room."
C. David Gingrich, senior vice president of multi-channel sales for Powell Home Fashions, said his company is building brand recognition, based in part on its history of providing innovative and high-quality youth furniture. And it terms of economies of scale, size indeed does matter.
"Larger size enables Powell to offer dealers an extremely strong value equation," said Gingrich. "We have teams of people in both the U.S. and Asia developing new products and making existing products even better."
He said Powell offers a wide range of support to dealers, including point of purchase and merchandising materials, along with PowellPRO, an online support program. The salesman on the floor can make an online sale in real time from the entire Powell catalog, even if the item isn't carried by his store — and the item will be shipped in a day or two.
Technology such as the addition of Bluetooth capability and durability are also seen as sales drivers. Both are recent developments.
"Before 2008 and 2009, we didn't worry too much about furniture growing with the child," said Gingrich. "Customers were flush with cash and spending it. But it is a new world now, and consumers are looking for furniture that will last a long time."
At Hillsdale Kids and Teen, Doug Devine, executive vice president, said that building a brand and recognition for it in the face of strong competitors is something that his company knows how to do because it was a pure youth player that was purchased by Hillsdale three years ago.
"There are economies of scale, and that's an advantage," said Devine. "We grew up as a youth source, and we were essentially bought and have joined forces with a much larger company. We're able to leverage much more in terms of size and stature."
Hillsdale Kids and Teen helps retailers with point of purchase materials, in-store signage and being flexible to retailer's needs, so they can put their best foot forward on the retail floor for the product.
Devine said that technology and a planned life for furniture beyond a child's room are important, but perhaps even more so is timeless design and high quality, coupled with pricing that's a good fit.
"Once the customer has decided they love the look and can afford the price, those are the things that might be the ultimate deciding factor," said Devine. "What matters are the basics."
In addition to those youth resources who have been around for years, there are some promising newcomers. SLF, a division of Home Meridian, launched its RoomGear youth brand four years ago. Lee Boone, who is president of SLF, said his company is concentrating on designing high-quality products with excellent value, which he said will drive business.
Boone said that RoomGear applies market-based intelligence and knowledge to product development, which effectively drives business and brand awareness with retailers and consumers alike.
"RoomGear provides a healthy array of retail point of purchase materials including hang-tags, tear pads, posters and banners," he said. "It also supports the brand with an informative website. Beyond those consumer-focused initiatives, RoomGear develops a significant portion of product on an exclusive proprietary basis with major accounts."
Boone said that good design is the main goal.
"Parents want to buy furnishings that not only adapt with the child, but also remain aesthetically pleasing to a growing boy or girl," he noted. "We all understand how quickly youngsters can grow tired of things; it is thus a challenge to design styles that remain relevant and desirable throughout childhood.''
At Universal Furniture, Neill MacKenzie, director of marketing, said that its infant and youth brand, Smartstuff, begins building brand recognition where most consumers shop: online.
"This is supported with monthly events and national sale periods where we advertise to consumers to drive traffic and awareness of the brand to our website to support engagement with local dealers," said MacKenzie. "In addition, we've leveraged social media to build ongoing connections with consumers and retailers, and social contests have been executed to build engagement with our social channels with a focus on Instagram and Facebook."
Universal's size enables it to offer a variety of styles, as well as ensuring consistency from development through manufacture and delivery. Within the youth category, the Smartstuff brand offers additional functionality and storage space in the child's room.
Providing a brand that is youth-oriented enables Universal to meet the needs of customers who are searching for a brand that can support the challenges of a child's room, from crib to reading on their own to sleepovers and homework.
"Having a brand that speaks to customers about these challenges and supports solutions is very important to building awareness of the brand to drive traffic to the stores that carry the product," MacKenzie said.
Related Content By Author
Westwood Design finishes draw attention to nursery furniture

More Videos