Bolton debuts line sourced in Brazil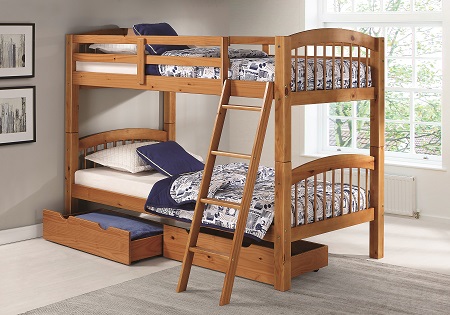 The Spindle bunk bed by Bolton Furniture is shown in a cinnamon finish
HIGH POINT — Youth furniture specialist Bolton Furniture is introducing its first Brazilian sourced products this market that highlight some of the manufacturing capabilities in the southern part of the country.
The company is showing several new bunk beds, lofts and individual beds made with solid pine and that come in multiple finishes that complement some of the finishes on its existing Asian-sourced case goods line.
Among the new groups is the Aurora, which features twin and bunk bed options as well as tri and quad bunk extensions that create as many as four sleep surfaces. This set comes in white, chestnut and dove gray finishes, making it suitable for boys and girls.
There are also two junior loft systems with storage that come in white, cinnamon and espresso finishes as well as another new bunk bed that features large posts, arched rails and spindles. It, too, comes in three finishes, including white cinnamon and chestnut, suitable for girls and boys.
The Melody day bed is a twin bed with a storage box element that pulls out and that can support another twin mattress, converting it to a queen-sized bed.
Three additional beds the company is sourcing in Brazil include Poppy and Harmony, available in twin and full sizes, and Barcelona, which is available in twin, full and queen sizes. Poppy is in white, espresso and cinnamon finishes, while Harmony is in white, cinnamon and dove gray finishes. Barcelona comes in white, chestnut and dove gray finishes.
Twin beds are targeted to retail from about $240 to $360, said Ted Weber, sales manager for Bolton Furniture.
Weber noted that Bolton also sources from China, Vietnam and India. The company has considered Brazil in the past but found the current timing to be more favorable. This is partly due to currency valuations that make Brazilian made product more affordable in the U.S. market.
Weber said the company also has met with various manufacturers over the years, ultimately developing a comfort level that has allowed them to begin doing business. "You kind of have to walk before you run," Weber said.
Bolton also has meetings scheduled with a current supplier and two other prospects planned this week in High Point.
The new sourcing development is the latest shift in manufacturing for the Morrisville, Vt.-based company. Earlier this year, Weber said, the company officially ceased production at Vermont Precision Woodworks, the domestic case goods manufacturing side of the business that actually stopped doing business with retailers about 10 years ago but has been providing some fill in orders to customers over the years. The demise of the company was largely attributed to the values retailers have seen in the Bolton import line, which Weber said got its start during the mid-2000s.
Today, Brazil remains another sourcing option aimed at creating additional value in the line. While the company currently sources companion case pieces from Asia, it may look at bringing in more case pieces from Brazil to go with the beds.
"What we are learning is that these factories specialize in different things," Weber noted. "Some specialize in beds. One other we were introduced to does more with case pieces.
"What was really appealing to me was the automation of these factories," he added. "It appears to me they have very state of the art CNC equipment and are really set up to make products very efficiently."
Bolton Furniture's new Brazilian sourced youth product can be seen at its showroom in space 210 of Centers of High Point | Hamilton.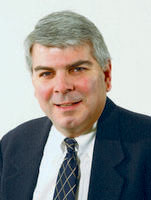 Thomas Russell
|
Associate Editor, Furniture Today
trussell@furnituretoday.com
Related Content By Author
Westwood Design finishes draw attention to nursery furniture

More Videos