Siscovers launches Learning Linens activities to sleep on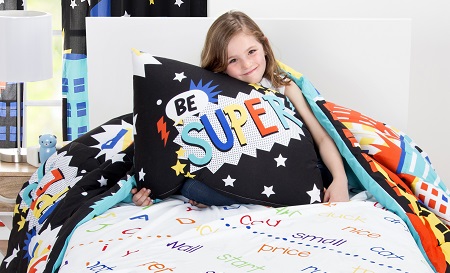 NEW YORK - Concept Marketing Group, a New York licensing agency, has announced a license between Siscovers and Learning Linens for a collection of sheet sets and comforters printed with preschool and early elementary activities to help children learn to read.
Siscovers is debuting the line at the High Point Furniture Market this week and at the ABC Kids Expo in Las Vegas, Oct. 17-19.
According to Kerry Glasser, Concept's founder, "We are thrilled to find a great partner in Siscovers who faithfully executed this collection for our client, as they have for their very successful Crayola license. Bedtime, which is normally reserved for stories and prayer, is now a teachable moment and a great time to learn and bond with a parent."
Learning Linens is the brainchild of Amy Poindexter. Formally trained in gifted and elementary education, she has applied her talents to various positions in primary schools, helping countless students succeed.
"I created Learning Linens as a fun, interactive way to expand a child's mind," Poindexter said. "Learning at home is vital. … To help a child succeed in school, the activities I have selected such as the ABCs, sight words, rhyming pairs, word families and more provide a broad array of subject matter. A few minutes a day can provide real results in the classroom."
Shari Hammer, owner and creative director of Siscovers, added, "Learning Linens provides a colorful way for children to learn. The soft and snuggly comforter sets and curtains that complement the activity sheet sets are loaded with vivid color and pattern that suggest it's cool to learn."
The initial launch includes four activity sheet sets and three comforter collections: Be Super, Smarty Cat and Brain Waves.
Related Content By Author
Westwood Design finishes draw attention to nursery furniture

More Videos