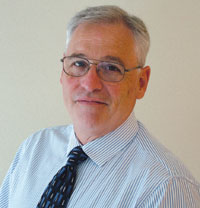 No site, No price, No competition
May 4, 2016
The cover story of this issue looks at the growing importance of the Internet for today's very busy, often dual-income parents. According to the Pew Research center nearly half (46%) of U.S. households today have two working parents and more than half (56%) say that balancing work and family is difficult.
That may not be surprising, particularly to anyone who's had to achieve that balance. But it's something worth keeping in mind if you're in retail because you can either be part of the solution or part of the problem.
One of the reasons that Internet shopping continues to grow at a much faster rate than brick and mortar is that it suits today's hectic consumer lifestyle. There's no traffic to fight, the store is always open and you can shop in your pajamas (don't try that at Kids 'R' Us).
If you currently don't have a website (is there still anyone who doesn't?) you are effectively invisible to the largest generation of consumers to ever walk the planet and it's only going to get worse. For many parents today shopping is one of a dozen things that need to get done each day. The faster, easier and more user-friendly you can make that experience the better your chances of getting a sale or getting them into your store.
Even if you're not currently selling on your site, the way many of today's parents begin their shopping trip is on a phone or tablet. You're either there when they look or you're not on their radar.
It's still somewhat surprising to me, particularly in the furniture channel, that many stores still don't have an e-commerce strategy and even more surprising that many of those who do, refuse to show product pricing on their site.
The argument I most often hear for this is, "We can't compete with online retailers."
Don't worry. You're not.
If you don't have pricing on your site you're not competing. Period. No pricing is an automatic disqualifier for most online shoppers. If you don't have them, they move on with the click of a finger.
It's also important to remember that your site is a powerful extension of your brand. Think of your website's home page as your digital front window. Is it cluttered and crowded? Is it sparse and unattractive? What does it say about your store's personality? Does it speak to your potential customer's lifestyle or does it look like the discount aisle at the supermarket?
Ask yourself these questions about your site: Is it easy to navigate? If you came looking for something specific, how many clicks would it take to find it? If I didn't know you existed how would I find you? What's going to lead me to your door? If I type in baby gear does your site come up? If I type kids furniture are you near the top of the list?
The Internet isn't going away, but if you don't master it, you just might be.